First wash things down and dry in the sunshine.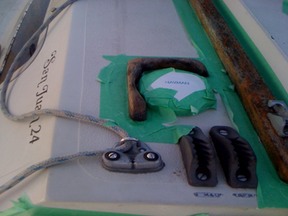 Later return with the nasty PolyStrippa or similar paint remover. You could sand it off, takes forever, and may scratch the nearby GelCoat. BEFORE you paint on the polyStrip, you MUST spend an hour or 2 covering the surrounding Gel Coat with Green Masking tape. 
Even put 2 layers as it gets hit a lot.
Once the Strippa has bubbled up the varnish, you can Brass or Wire Brush it off.  You may need to paint on more Strippa.
Now, once dried, you may need to lightly sand places where the wood is ripped or splintered. 
YES you will wish that you had used gloves, as your skin hardens, cracks and falls off.....
Now, one coat of  Cetol Natural Teak  no other product like EpiFanes- and the next day , brush with 400 grit sandpaper, and paint on a second coat.  If you have nothing else to fix, you can do a third coat, otherwise, do it next spring. 
My take, in brief
Oil is the easiest finish to apply, but requires more frequent reapplication. Varnish looks the best, but protection from sunlight is very important to avoid the major job of stripping off cracked and yellowed varnish. Cetol has come a long way in appearance, and I would now use it on one of my boats. Wax is for furniture, not boats.